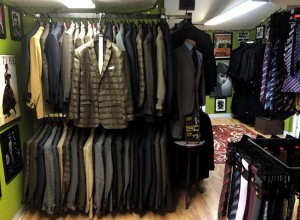 Many men do not know how to care for fine clothing, so to save them the expense of replacing them, we offer a few useful tips.
SUITS & DRY CLEANING
More than anything, dry cleaning shortens the life of tailored clothing. We HAVE to dry clean our tuxedos between each use, and rental garments are made to take that type of abuse. Your suits aren't. Don't do it unless the garment is dirty. If it's just wrinkled, tell your cleaner you only want it pressed. We recommend New Bedford's Pine Grove Cleaners on Ashley Boulevard. Ask for Mike.
SHIRTS & LAUNDERING
If you want your shirts to last for years, launder and press them at home. However, you'll also be laundering and pressing for years. This writer is willing to trade shirt life for his own quality of life and relies on a professional laundry service. Yes, you get a cracked button now and then, but there's nothing like a professionally starched shirt. Spring for the $2.85 and do it. For shirts, we use Bush Cleaners.
SHOES
Black, cognac and brown. Buy a few nice pairs of dress shoes so that you can rotate them. Try not to wear the same pair two days in a row. Then protect your investment with shoe trees. Tip: If you're considering loafers, don't. Kick up your game with a pair of monk straps.