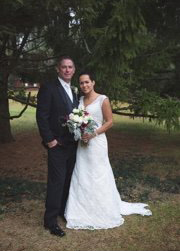 We've known this groom for more than 20 years as part of the thin blue line that keeps our Acushnet community safe. Always the consummate professional, he (like all of the Acushnet PD) keeps a watchful eye over everyone's favorite tux shop, and we've always considered him a pal. So when we heard Officer Costa was going to be walking down the aisle, we knew the bride had to be a special lady, and Jolene didn't disappoint. What. A. Sweetheart.
We're super-stoked for the happy couple, and we wish them many years of wedded bliss!
Photos by Sadie Fortin Photography.