Naturally, we think all of our brides are beautiful, but it's not every day that we get to style the wedding of a former Miss Massachusetts! Last year, we had the privilege of doing just that, dressing all of the men for dashing groom Zach Ledogar, and his gorgeous bride, Jillian, who held the title of Miss Massachusetts in 2017.
As we all know, the year 2020 was a gut punch for everyone, but to their great credit, this cheerful crew simply would not let the pandemic get them down. Always smiling and determined to celebrate in style, the couple opted for our new French blue slim-fit suits with neckties to match the ladies' Capri blue gowns, creating a classy but modern combination that looked fantastic at their elegant outdoor setting.
Dressing this group was not without its challenges: Both the bride and groom are avid Crossfitters, and as we dressed the groomsmen, it was clear these guys were no slouches in the gym, either. College athletes, military vets, basically a cadre of studs from all over the country, whose suits had to be measured, custom-tailored, and sent on their way on very short notice. Fortunately, we have a magician for a head tailor (who also altered gowns for the bride and many of her bridesmaids), so we were able to pull off this feat with time to spare. As you can see from these lovely photos by RTKP Photography, they all look fantastic.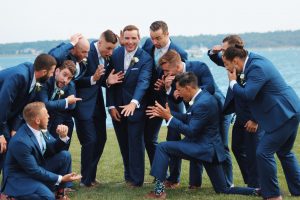 Serving this wedding was one of the bright spots during a very challenging year, and we were honored to be a part of the event in our small way. If you're planning a wedding in 2021 and would like to meet with one of our stylists to see what we can do for your special event, please contact us today!